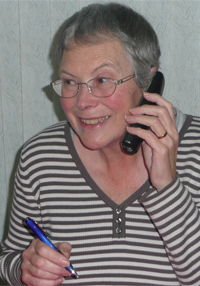 Stop Press.
Coronavirus (COVID-19) Update July 2021.
We are pleased to announce that after an absence of 15 months we will be operating again from Monday 5th July - click here for details.
Volunteers Required
We URGENTLY need more volunteers in order to meet demands for our services. If you can spare a few hours a month, show you Care by registering as a volunteer.
Thank you.
25th Anniversary.
In 2015 Care celebrated their 25th Anniversary with a social gathering, which was held in the Halliford Community Centre. Over 60 past and present volunteers and guests attended the function, including Peter Gammond, who was chairman when Care was launched in 1990. Past chairmen, Anna Gammond and Marilyn Bulford, and the current chairman, Cliff Shears, cut cakes, provided by volunteer Julia Jelley, to mark the occasion.
Wendy Barrett, a Care Duty Officer, recited a poem she had written celebrating 25 years of Care in Shepperton. View Wendy's poem